Why you should choose reTyre for your e-Bike
The Unique Demands of E-bike Tyres
reTyre's unique tyre solution meets the demands placed upon it by modern e-bikes and modern lifestyle. A truly unique solution, with a variety of different treads, all featuring zip-tech that allows for quick and easy tyre change. A tight, glove-like fit that ensures you have the grip you need when you need it most. In minutes! 100% hassle free.
A Tyre That Inspires
For those who tackle the urban commute in wind, rain, hail or shine, you'll need a quality time-tested solution that's easily adapted to meet the conditions head-on. And for that, look no further than reTyre. The demands of e-biking place unique constraints upon tyre performance, all of which we take into account at reTyre when designing our unique solutions.
You're probably already familiar with features that make the best e-Bike tyre, so we'll skip right to the point!
reTyre: Zip and Ride, Anywhere, Anytime.
We often change our shoes and clothing to match the weather, so why shouldn't we change our e-bike tyres too? reTyre is the only e-bike tyre solution that will let you change the tyre to match the conditions and surfaces in seconds. Our selection of tyres and Skins is available for all terrains and weather conditions, meaning that with reTyre you're always ready for what comes next.

The Best e-Bike Tyre For Commuters
reTyre has a clear advantage over the other tyre brands, being the only "multi-in-1" tyre system. No other tyre lets you adapt the in seconds, or bring 4 different treads in a tiny backpack and change on the go!
Modularity aside, one of the hallmarks of a quality e-bike tyre is in striking a balance between performance and durability. Our unique NXT rubber compounds are specially formulated to find the optimal point of balance between the two, to maximise traction on both dry roads and the wet asphalt, meaning it's the fast-rolling solution that meets all the safety demands of urban e-biking.
For those looking for the best tyre for their e-bike commute, reTyre One is the perfect option. Our durable and fast-rolling solution is adapted to meet the demands of modern commuting - featuring a perfect rubber compound for year-round cycling, the slick tread that maximises traction and grip on asphalt, additional puncture protection and reflective stripe for your safety (always included!), plus, it comes with an integrated double-zipper that makes switching treads easy and effortless!


reTyre One Features:

Exceptional rubber




Fast-rolling

Puncture protection

Reflective stripe

Integrated zipper

Wire bead vs Kevlar reinforced variant

Unique option to add tread in seconds - with reTyre SkinsTM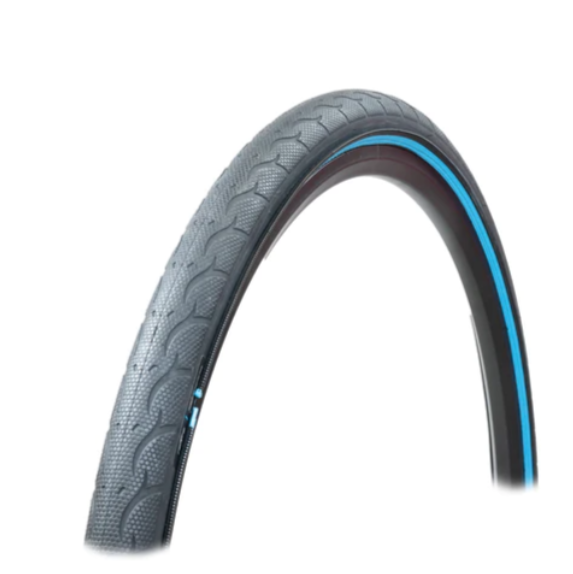 Year-round Cycling With reTyre
At reTyre, we meet the demands of modern e-bikers with our modular tyre system. It comes complete with zip-on technology that allows you to slip on your tyre tread of choice in mere seconds. Designed for unbeatable convenience and to help tailor your e-bike experience to a specific terrain or discipline, this ingenious method redefines the cycling experience for the multi-terrain cyclist and opens up greater freedom, peace of mind, and ultimately, performance. With reTyre, becoming a year-round cyclist has never been easier!